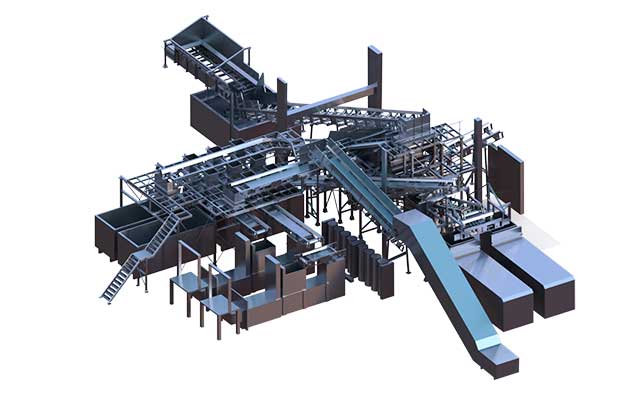 Recycling · Turnkey Projects
Every industry, from the manufacturing of durable, household, and leisure goods for consumers to all forms of energy production (oil, natural gas, electricity…), creates varying types of re-usable and recycling materials. Much like household solid waste, such as cardboard, printer paper, newspapers, cans, and plastic containers, industrial waste is also a valuable commodity that can easily and effectively be reused and recycled.
Reasons for recycling these industrial waste materials include:
Lessens the producer's demand for raw materials thus preserving the environment;
Energy is conserved and greenhouse gas emissions reduced by lessening the quantity of products manufactured through high energy demand processes.
Saves money for both the producer and consumer as materials cost is lessened.
Industrial materials recycling is also known as by the government term, "beneficial use." Both expressions refer to reusing or recycling waste materials generated from industrial processes. These industrial waste materials can be safely and successfully used in the manufacture and repair of buildings, roads, bridges, consumer goods and products, and a myriad of other construction-related projects. Currently, hundreds of millions of tons of non-hazardous industrial waste materials are not be re-used and recycled – at a substantial cost to both the company generating the waste and the companies engaged in the production of new goods who must purchase more expensive raw materials as recycled materials are not available.
Non-hazardous industrial waste materials include items such as gypsum, coal ash, slag, foundry sand, and various construction and demolition materials. Each of these unique by-products can be recycled or re-used in many different ways. Examples of best-practices in recycling include the following:
Crushed concrete and asphalt used as structural fill or in pavement;
Road embankments, concrete, and fill incorporating recycled coal fly ash, spent foundry sand and slag;
Using recycled coal ash in the manufacturing of ceiling tiles and cement; and
Utilizing flue gas gypsum, spent foundry sand, and paper byproducts for agricultural amendments and soil manufacturing.
INGEPROA SOLUTIONS S.L. designs and manufactures machinery for large companies in the recycling sector. Our products range from conveyor belts, through shredding mills to industrial shredders.
In parallel, we carry out the complete automation of waste lines, including from the manufacture of electrical panels, to the commissioning of any type of equipment, through the programming of PLC's, HMI screens or SCADA programming.
Información básica sobre protección de datos Ver más
Responsable: INGEPROA SOLUTIONS S.L..
Finalidad: Responder las consultas.
Legitimación: Por consentimiento del interesado.
Destinatarios y encargados de tratamiento: No se ceden o comunican datos a terceros para prestar este servicio. El Titular ha contratado los servicios de alojamiento web a Ideaconsulting que actúa como encargado de tratamiento.
Derechos: Acceder, rectificar y suprimir los datos.
Información Adicional: Puede consultar la información detallada en la Política de Privacidad.