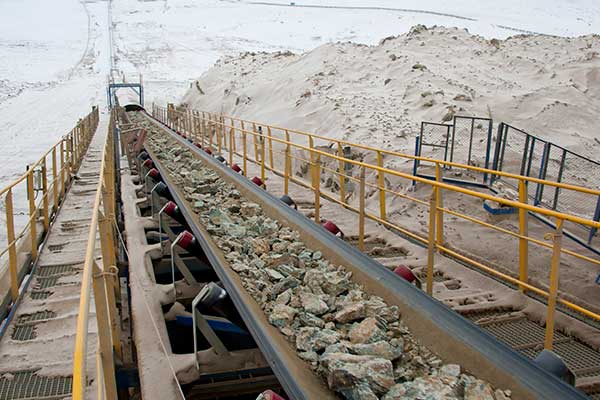 Mining solutions gain efficiencies, improve effectiveness, and run more profitable operations with proven, on-site INGEPROA SOLUTIONS weighing, monitoring, and sampling systems for bulk material handling.
Industrial companies worldwide in the mineral and coal mining, cement, construction, aggregates, electric utilities, chemical processing, plastics, and food industries, among others, turn to us for weighing, monitoring, and sampling systems and applications expertise to help to optimize process control, production monitoring, and automation.
Our bulk process equipment includes THERMO Products, as conveyor belt scales, weighbelt feeders, tramp metal detectors, coal and mineral sampling systems, cross belt samplers, level indicators, conveyor safety switches, and other specialty process control instruments.
INGEPROA MINING SOLUTIONS, help you maximize productivity, improve process efficiency, and obtain the highest rate of return from your investments. Our factory-certified engineers and genuine, high-quality components deliver measurable benefits:
Keep instruments in optimal operating condition
Optimize closed-loop process control for improved quality and efficiency
Ensure maximum uptime by preventing failures before they occur
INGEPROA SOLUTIONS MAINTENANCE
Electro-mechanical components degrade over time. Our scheduled, our services are designed to maximize the life of your analyzer and prevent problems from occurring. including optimal operating conditions and can include the following:
Conduct stability tests of each instrument
Check health and condition of electro-mechanical components
Check computer software and configurations
Replace non-durable and worn or damaged parts where parts are included
Identify durable components potentially needing replacement
Review spares usage; recommend ongoing stock levels
Take corrective action for any issues identified
Provide device inspection survey (if applicable)
Develop action plan to maximize accuracy and availability of each instrument
Back-up system software in ours PLC or HMI
Remote control of the process
Document and review results with key stakeholder
INGEPROA REMOTE TECHNICAL SUPPORT
Our highly trained technical support staff is available 24×7 by phone and by remote broadband connection into the instrument.
Field service engineering team. Our factory trained and certified field service engineering staff provides backup to the technical support team with specific site knowledge. They are available for on-site dispatch to resolve issues as required.
MECHANICAL ENGINEERING TEAM
Our knowledgeable and experienced application engineering staff is available for both remote and on-site support for situations involving more complex measurement, software, or other control issues. They also assist in process optimization services.
INGEPROA SERVICE MANAGEMENT TEAM
The field service management team supports the field service team if any escalation is required.Research and development team.
Most reported issues can be diagnosed and resolved remotely by our team of technical support engineers. If our staff determines that on-site intervention is necessary, our field service or application engineers are ready to be dispatched as soon as possible.
Información básica sobre protección de datos Ver más
Responsable: INGEPROA SOLUTIONS S.L..
Finalidad: Responder las consultas.
Legitimación: Por consentimiento del interesado.
Destinatarios y encargados de tratamiento: No se ceden o comunican datos a terceros para prestar este servicio. El Titular ha contratado los servicios de alojamiento web a Ideaconsulting que actúa como encargado de tratamiento.
Derechos: Acceder, rectificar y suprimir los datos.
Información Adicional: Puede consultar la información detallada en la Política de Privacidad.