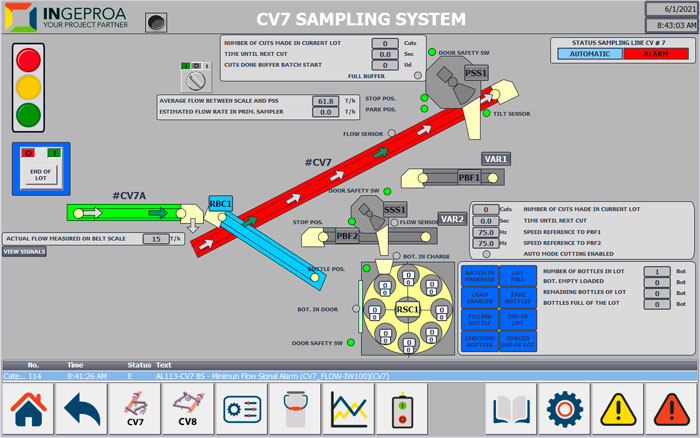 The implementation process of an HMI / SCADA Programs will require programming included in an automaton in charge of managing the actions and output variables according to the input variables and the programming included.
By means of an HMI system we include in this automation a system that connects with the automaton and is able to offer the operator information about the system. It also allows the operator to activate or modify certain values which are applied in the automaton and evolve according to the programming. This set is called a SCADA (Supervisory Control and Data Acquisition) system.
An automated system may require complex execution programs that must be implemented by qualified technicians. However, the implementation of an HMI system is intended to provide the end operator with a user-friendly and easy-to-use interface to interact with and control the system. Sharing complex processes to improve facilities and create friendly environments is the trend currently being sought by the Spanish Association of Robotics and Automation.
In INGEPROA SOLUTIONS, we carry out programming of HMI screens of any type of sector, specializing in the waste and Sampling sector.
Información básica sobre protección de datos Ver más
Responsable: INGEPROA SOLUTIONS S.L..
Finalidad: Responder las consultas.
Legitimación: Por consentimiento del interesado.
Destinatarios y encargados de tratamiento: No se ceden o comunican datos a terceros para prestar este servicio. El Titular ha contratado los servicios de alojamiento web a Ideaconsulting que actúa como encargado de tratamiento.
Derechos: Acceder, rectificar y suprimir los datos.
Información Adicional: Puede consultar la información detallada en la Política de Privacidad.